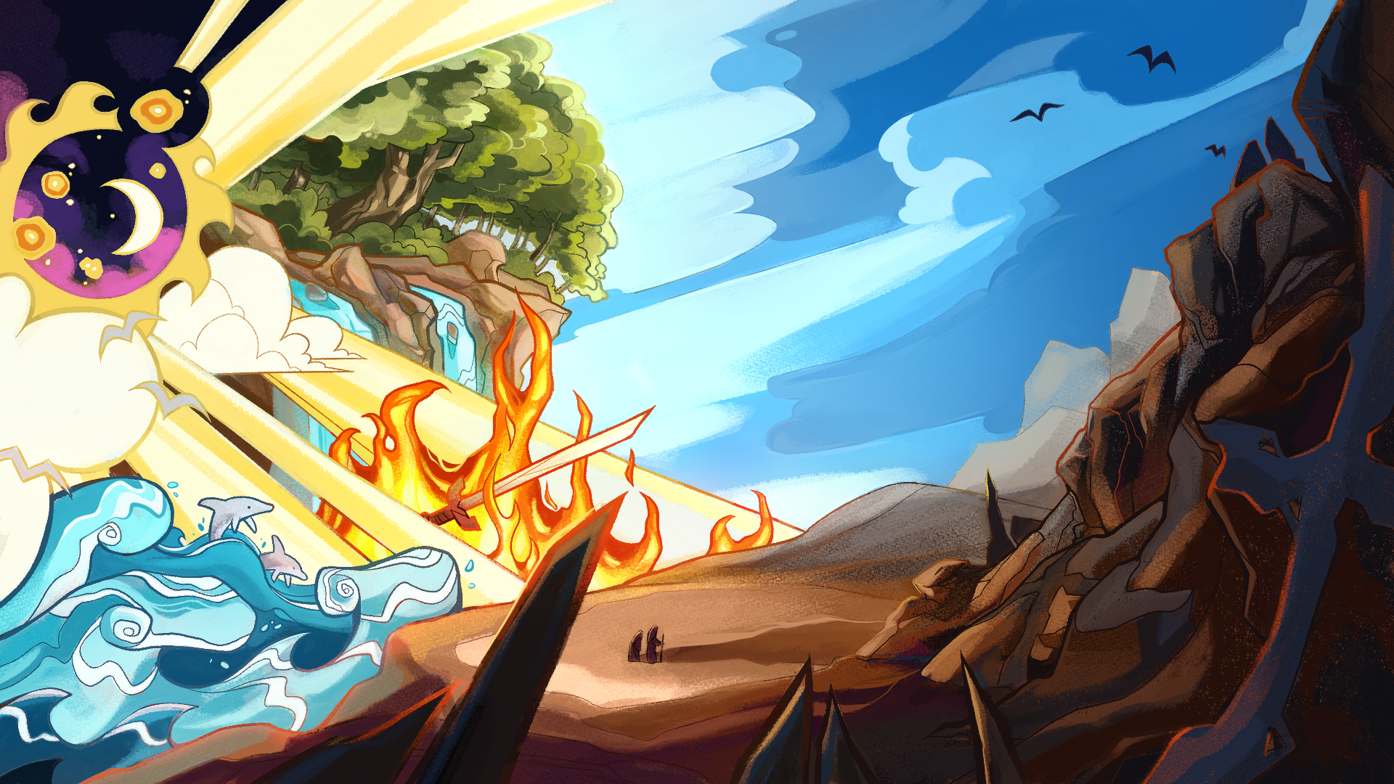 God is faithful to bring His creation to completion.
Visually, I decided to have this piece travel from left to right as a symbol of hopeful momentum. The end of Genesis 3 appears bleak with humanity's choice of rebellion against God, subsequent curse of death, and exile from God's presence. However this chapter also includes the earliest promise of the coming Messiah – often called the protoevangelium (first gospel) -- when God says to Satan,
"I will put enmity between you and the woman,
and between your offspring and her offspring;
he shall bruise your head,
and you shall bruise his heel."
As the first recorded promise of a coming Saviour in the Bible, God paints words of hope across the bleakest moment of human history. The promise here ultimately speaks of the coming of Jesus, who would provide a way of restoration to God. This is depicted in the illustration above as a cross hidden within the darkness of the wasteland on the right.
While killed at the hands of evil men, Satan's plan to destroy Jesus was only a bruise to His heel; in His resurrection, Jesus triumphed over evil and death, crushing Satan's head and proclaiming him a defeated enemy. As written in 1 John 3:8, the reason the Son of God appeared was to destroy the works of the devil. The Bible is clear that Satan remains an agent of evil in the world, but through the cross, Jesus has disarmed the rulers and authorities and put them to shame, by triumphing over them in Him (Colossians 2:15). The ultimate fulfillment of the promise given in Genesis 3 will come in the final days, when Christ returns to seize the defeated Satan and throw him, and all who still follow him by rejecting Jesus, into the eternal lake of fire.
Just as God is preparing an eternal punishment for Satan and His enemies, He is also preparing a dwelling much better than Eden for all who believe that God was pleased to have all His fullness dwell in Jesus, and through Him to reconcile everything to Himself by making peace through the blood of His cross – whether things on earth or things in heaven (Colossians 1:19-20). This promise is for all who believe in Jesus, and who call on His name: that one day, as at the beginning, God's dwelling place will be among the people, and He will dwell with them. They will be His people, and God Himself will be their God (Revelation 21:3).
1 Comment
---